The folks who brought you the most successful Barcamp in India (Barcamp Chennai), India's first blogging event (BlogCamp) and India's first "startup enabler event" (proto.in), now comes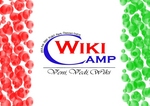 And they don't take prisoners – Jimbo "Wikipedia" Wales himself is coming for the event.
If you are into Wikis and collaborative software, you have to be braindead to miss this event, so be in Chennai on February 25th.
See you there.