(Go to Shorter version for use in introductions, bylines, etc. Or visit the LinkedIn profile)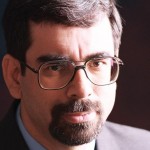 Atul Chitnis is a consulting technologist, focused on product development, internet, free & open source software, mobile computing, virtual communities and future technologies.
Arguably one of India's best known technologists, Atul Chitnis has been at the forefront of India's technology evolution since the 1980s, correctly predicting and driving new technology waves such as datacommunication, networking, the Internet, wireless and mobile computing, and Open Source, among others.
He has been described as a "technology market enabler" for his ability to help his clients and audiences understand and adopt new technologies, providing a safety net of knowledge for them, thereby mitigating the risks involved.
He enjoys wide-spread recognition in technology circles, and few people working in any of these technology fields in India today can say that they have not been influenced by him in one way or another, through his many articles, seminars and events.
A popular and highly effective public speaker, he is often invited to speak at technology and industry events, presenting his insights on the technologies he is involved with.
During the 1980s, Atul was actively involved in the development of application software for the growing PC markets, and eventually moved into the development of award-winning datacommunication and networking solutions, honing his skills both as a developer as well as an entrepreneur.
In the early 1990′s, he helped clear up myths and misunderstandings about the possibilities of datacommunication in the India, by not only writing and speaking extensively on the subject, but by encouraging the setting up of actual online services, starting with his own BBS "CiX" in 1989 – becoming the first online service of any kind in the subcontinent, and becoming the starting point for thousands of Indians as they launched themselves into the online world.
Throughout the 1990s, Atul worked with the IT industry to help prepare itself, and eventually adapt to, the onslaught of the Internet, guiding companies in their quest to become global in their approach to electronic communication.
Since the dawn of the 21st century, he has been active in the field of mobile computing, targeting mobile devices such as phones, PDAs and converged communication devices such as the Simputer.
He is well known for his extensive work in the field of Linux and Free & Open Source Software (FOSS) – a field that he has personally nurtured and supported in India since 1994.
As Consulting Editor for the technology publication PCQuest from 1996 to 2002, he helped trigger Linux and FOSS adoption in India by conceiving and driving the PCQuest Linux Initiative, which has been credited with the introduction and proliferation of Linux and FOSS in the Indian corporate world.
As part of making the industry more aware of FOSS technologies, Atul conceived and drives the "FOSS.IN" series of annual conventions, working with industry, community and governments to address their requirements. This convention went from being a small local event to being a recognised international event in a short span of three years, paving the way for similar conferences across India and Asia.
Over the years, he has helped lay the foundation of government and industry IT policies that address the Internet, data networks and FOSS technologies in their scope. He is often consulted by industry and national governments on subjects related to his fields of expertise.
Atul can often be found interacting with people via mailing lists, online forums, discussion groups and electronic media.
Marrying his intense involvement with technology with his interest in music, he spends considerable time understanding the music markets as well as the recording industry. Himself an amateur musician, he likes to spend time performing with, and promoting, rock and pop music groups.
Atul was born and brought up in Berlin, Germany, and completed his education in India in 1985, graduating in Mechanical Engineering from the Gogte Institute of Technology. He continues to educate himself on an ongoing basis on a variety of subjects.
He is a voracious reader and writer of both online and offline material, both in English as well as in German (a language he speaks natively), and is currently working on several book projects.
Atul lives with his wife Shubha and daughter Geetanjali in Bangalore, India.